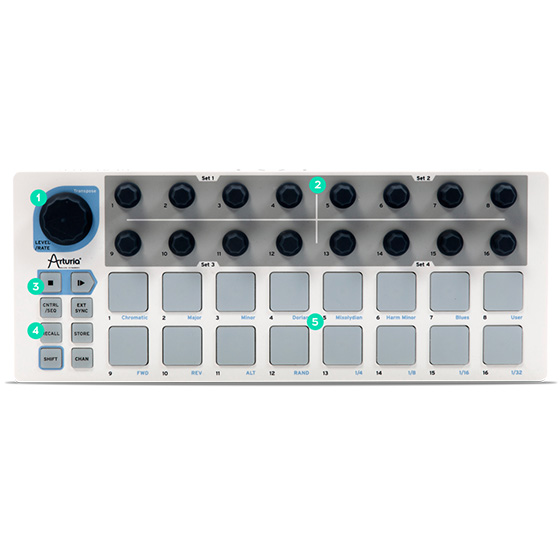 arturia-beatstep
Arturia Beatstep
Availability:
in stock
1 item(s)
1-Data Knob
In CNTRL mode this sends MIDI CC#7 (Volume). In SEQ mode it can transpose your sequence up or down or change the playback rate.
2-Encoders
Fully assignable in MIDI Control mode and used for adjusting pitches in SEQ mode. The 16 encoders offer you plenty of creative options.
3-Transport
The transport buttons can send MMC or MIDI CC messages to DAWs, in addition to controlling the internal sequence.
4-Mode Buttons
The mode buttons allow for immediate access to the most-used functions.
5-Classy, Backlit Drum Pads
The 16 pads are velocity- and pressure-sensitive. They turn red for CNTRL mode or blue for SEQ mode, providing instant visual feedback on stage. And they feel great!