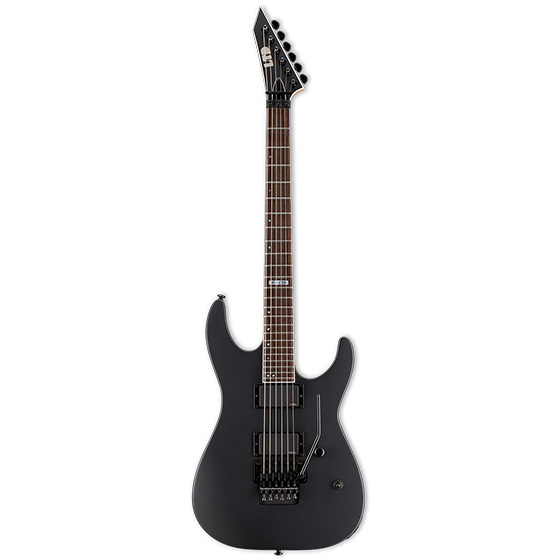 ltd-m-400
LTD M-400
Availability:
in stock
1 item(s)
Product Code:
ESPLM400BLKS
The LTD M-400 solidbody electric guitar follows in a long line of ESP instruments designed for highly technical players and performances. The mahogany body sings with warm sustain and features a Floyd Rose Special tremolo. The extra-thin flat maple neck ensures your fingers will be able to fly up and down the 24-fret rosewood fretboard. And the ESP LTD M-400's duo of active EMG humbucking pickups will punish the front end of your favorite high-gain amplifier or stompbox for tight, searing, fast tones that cut.
Everything about the ESP LTD M-400 solidbody electric guitar is engineered to offer the fastest and most comfortable playing experience, with no extraneous additions to slow you down. The slab mahogany body offers a warm and sustaining tone that is a standard for hard rock guitars. Its deep forearm, back, and cutaway contours are expertly carved. A Floyd Rose Special double-locking tremolo is recessed into the body for up and down pitch control. And ESP even outfitted the LTD M-400 with a set of stable Grover tuners.
The ESP LTD M-400 is crafted with a bolt-on neck that is carved to elicit your fastest and most intense fretwork. The neck is carved from three pieces of maple. This construction helps maintain a great deal of stability. Its extra-thin flat profile is among the fastest-feeling in ESP's lineup. The neck is bolted to the mahogany body with a specially designed heel for easy access to all 24 frets. And the neck is capped with a rosewood fretboard, boasting binding and inlay work that is at once understated and aggressive.
You'll get to know the true personality of the ESP LTD M-400 as soon as you plug it in. A set of EMG's popular 85 and 81 active humbucking pickups offers up a high-output sound with plenty of top-end clarity and huge lows. These pickups are a favorite among metal players, and Sweetwater sells a ton of them for how well they push amps into tight-sounding distortion. Also, the simple to navigate control layout makes dialing in your tones intuitive and fast.
Straightforward electric guitar with high-gain performance in mind
Slab mahogany body with comfortable contours
Loaded with 2 active EMG humbucking pickups for slamming your amp
Pitch control and tuning stability via the Floyd Rose Special double-locking tremolo
24 extra-jumbo frets
Extra-thin flat maple neck is crafted for speed
Bolt-on maple neck offers a quick snap and attack
Understated binding and inlay decorate the fretboar