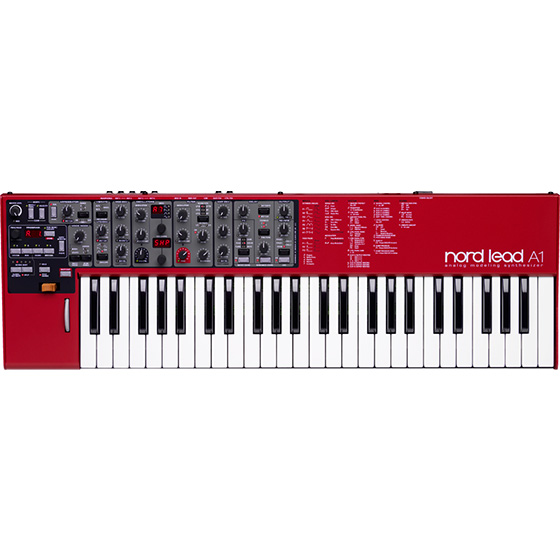 nord-leada1
Nord Lead A1
Availability:
in stock
3 item(s)
The Nord Lead A1 analog modeling synthesizer will change your concept of synthesis. Whether you're onstage or in the studio, the Lead A1's innovative architecture lets you quickly amass a huge arsenal of stunning sounds that work perfectly across musical genres. Nord gave the A1 a fast, intuitive interface that lets you whip up awesome patches fast, and at the same time encourages experimentation. Blast out a run on the splittable 49-note Fatar keybed while sweeping the filter. Sounds and feels incredible, doesn't it? And with a curb weight of under 11 pounds, the Nord Lead A1 makes an ideal gigging synth.
The versatility to ace any gig or session
Designed for speedy patch creation and deployment
Analog modeling: Nord does it right
Sweetwater keyboardists are impressed with the Nord Lead A1, and for good reason. Fat, snarling leads; sensuous evolving pads; bass that blows holes in walls - it's all here. And it's all easy to get to. Forge ripping leads with classic oscillator sync, revisit the '80s with chimey FM pianos, ring modulate with AM. Any sound you hear in your mind's ear is in play. Instantly. With 24-note polyphony, you can get elaborate with your chord voicings and layers. And speaking of layering, the Lead A1 is 4-part multitimbral, with its great-sounding effects (Ensemble, Chorus, Phaser, Flanger, Ring Modulator, and Drive) available independently on each section, so there's no end to the glorious mayhem you can create.
The Lead A1 is a fantastic synth value, sure; but it's not some "souped-down" version of Nord's flagship A4. This synthesizer represents a new direction for the Lead series - one in which your ability to whip up truly impressive patches quickly and intuitively is of paramount importance. Hot new features such as a unique, eight-configuration oscillator block and the new "Like" list make it faster and easier than ever to get the sound you're after during a show or studio session. Need inspiration? The A1 gives you four separate arpeggiators with a 4-octave range and Up/Down and Random modes. And of course, you can sync any or all of them to the Lead A1's master clock.
If you've ever heard keyboard whiz Derek Sherinian shred with Dream Theater, Billy Idol, or his own band Planet X, you know he's a tone meister of the highest order. Ask Mr. Sherinian what he loves about Nord keyboards, and he'll tell you it's the "organic analog warmth." Well, that and the tour-proof build quality, the ease of calling up sounds, and much more. With the Nord Lead A1, you get the warmth of analog with the road-tested reliability of a modern digital machine.
24-note polyphony, 4-part multitimbral
Keyboard split with two slots for upper and lower sections
Modulation wheel, Pitch Stick with no dead zone at zero crossing
Unique oscillator concept with eight configurations:
Pitch, Detune, Shape, Sync, AM, Noise, Sub Mix, FM
Traditional analog and digital waveforms
Unison mode and Extra Fat Unison mode adds girth to your sounds
LFO with five waveforms
Mod envelope; LFO as additional ModEnv
12 and 24dB lowpass filters
Highpass and bandpass filters
Transistor and diode ladder filter simulations of Mini and TB-303
Effects: Ensemble, Chorus, Phaser, Flanger, Ring Modulator, Drive
Master Clock Sync of Arpeggiator, LFO, and Delay
Velocity and Mod Wheel Morph
USB MIDI integrates the Lead A1 with your DAW
Like Button lets you save what you've done into a temporary list and continue editing
Mutator lets you adjust elements by set percentages to easily create variations on a patch
3 LED displays, 23 knobs, three encoders, and 20+ buttons for program and performance editing
Sustain and expression pedal inputs
Highly portable: weighs 10.7 pounds
Hand-crafted in Sweden