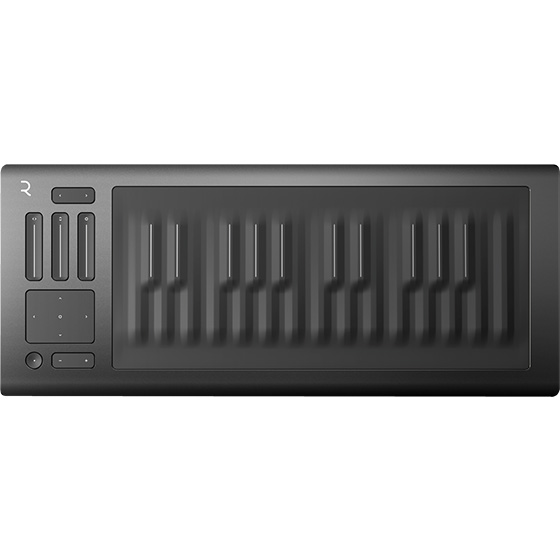 roli-seaboard-rise-25-midi-controller
ROLI Seaboard Rise 25 MIDI Controller
Availability:
in stock
5 item(s)
Getting your hands on the Roli Seaboard Rise keyboard controller is like experiencing a new instrument for the first time, albeit one that will feel familiar to any keyboardist or pianist. A squishy keybed with 25 "Keywaves" is more sensitive to your touch than any traditional keyboard ever was and offers polyphonic pitch bend and aftertouch. Slide notes like a cellist, add vibrato like a guitarist, and make tonal changes on a per note basis, either with the included Equator software synthesizer or your own favorite software instruments. You'll be able to create more depth and dynamic interest in your performances than ever before with the Roli Seaboard Rise.
Keywave playing surface has unprecedented expressive potential
Polyphonic pitch bend and aftertouch enhance any performance
Slide notes just as with a ribbon controller
Comes with Equator synthesizer designed specifically for Seaboard
The smooth playing surface on the Seaboard Rise has 25 molded Keywaves arranged similarly to a typical piano keyboard. We also noticed the amazing sensitivity: the response is adjustable, and at the most extreme sensitivity settings you barely need to touch a Keywave to play a note. Digging into chords and emphasizing certain notes felt much more satisfying than the aftertouch found on most keyboards. And it quickly becomes second nature to wiggle notes for a vibrato effect. Sit down at the Seaboard Rise and play a piece you know well, and you'll soon discover more expressive potential than you ever had with a traditional keyboard.
With the Roli Seaboard Rise you can strike a chord, then bend the pitch of just a single note. Or add pressure to a single note to add modulation, while other notes remain unaffected. It's this level of expression that allows you to perform with more dynamics and nuance than you ever could with a typical keyboard. For the one-person composer/orchestrator/performer, it can enable you to quickly add expressive lifelike interpretations to your group or solo instrument samples.
Because the Seaboard Rise's Keywaves all flow together, you can actually slide between notes like you can on a fretless instrument. Just hit one note, slide your finger along the Keywaves, and the note will glide right along. And the flat area in front of the Keywaves acts as a ribbon controller, allowing you to play notes and slide between them.
Along with the Seaboard Rise, you'll receive Roli's Equator software synthesizer, a custom instrument that takes advantage of the Seaboard's advanced expressive capabilities. Browse hundreds of presets directly from the Seaboard using the SoundDial, from realistic pianos and guitars to evocative pads and extreme synth leads. And of course, you can use the Seaboard Rise as a controller for all of your other virtual instruments, too.
25-note USB controller with 5D touch keybed
Keywave playing surface allows you to slide between notes and use unique playing techniques
Supports wireless MIDI via Bluetooth
Supports polyphonic pitch bend and aftertouch
Control pedal input offers even more expressive potential
Reassuringly rugged with all-metal construction
Comes with Equator software synthesizer (Mac)