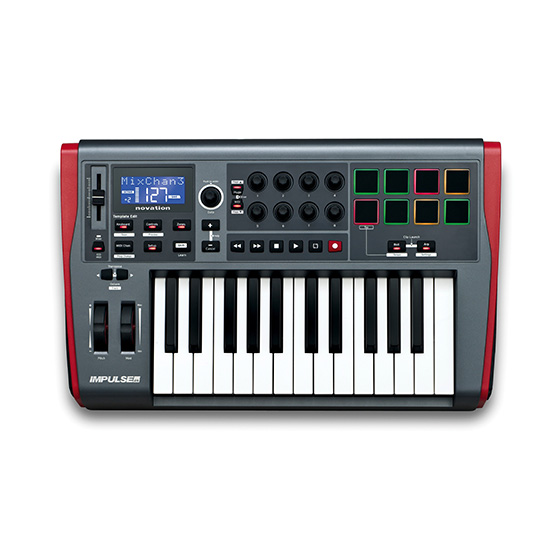 novation-impulse-25
Novation Impulse 25
Availability:
in stock
3 item(s)
The Novation Impulse 25 USB MIDI controller gives you everything you need to control your DAW with expression and precision. At the heart of the Impulse 25 is its highly responsive semi-weighted keyboard with assignable aftertouch. You get full DAW/plug-in control via 1 fader, 8 rotarys, 8 backlit performance pads, transport controls, and an LCD screen to keep you status-savvy. The Impulse 25 also ships with a tidy collection of cool software and sounds. If you have DAW control issues, check out the Novation Impulse 25.
First-class keyboard
Iron-fisted, velvet-gloved control
Works with all major DAWS
Free XLN Addictive Keys instrument with registration
The Novation Impulse 25's semi-weighted keybed is first-class. Designed to feel like an instrument rather than a computer accessory, these keys communicate musical expression to your DAW with an efficacy you never thought possible. That's always been the challenge with MIDI and computer-based music creation - and the Impulse 25 attacks it head-on. The result is better music.
In addition to the superb keyboard, the Novation Impulse 25's multi-function, backlit drum pads let you roll beats, warp arpeggios, launch clips in Ableton Live, and curb the potential for mayhem that lurks beneath the surface of every complex DAW setup. And with immediate access to your DAW's transport, mixer and plug-ins, you'll enjoy increased productivity and focus, resulting in, again, better music.
The Novation Impulse 25 has been designed and tested to work with all major DAWs and plug-in instruments and effects, including Ableton (Ableton Live Lite comes included with Impulse), Cubase, Logic, ProTools, Reason/Record, Sonar (PC only), FL Studio, Studio One, and Garage Band. Automap 4 control software is the magic that gives you immediate hands-on access to your DAW and plug-ins. In addition, you get Impulse 25 access to your 3rd party plug-in instruments and effects, such as Native Instruments, Waves or FXpansion. In Live, you can even control Scene Launch and Clip Launch using Impulse's back-lit drum pads. The Novation Impulse 25 is one serious controller.
Your Novation Impulse 25 also includes your choice of XLN's world-class Addictive Keys virtual instruments. Choose from the following:
Modern Upright - A tight, defined Yamaha U3 upright
Studio Grand - A remarkably rich Steinway Model D grand
Electric Grand - The pop-rock classic Yamaha CP-80 at your fingertips
Mark One - A sublime Fender Rhodes through a vintage tube amp
Ultra-responsive semi-weighted keyboard with aftertouch
Automap 4 control software enables instant hands-on access to your DAW and plug-ins
Comprehansive DAW/plug-in control surface
1 fader, 8 rotarys, 8 backlit performance pads, and transport controls
Custom LCD screen always keep you status-savvy
Multi-function drum pads let you warp arpeggios, roll beats and launch clips in Ableton Live
Ships with Ableton Live Lite, Novation Bass Station, Loopmasters sample library, and Mike The Drummer
Your choice of XLN Addictive Keys instrument (VST/AU/AAX) with product registration