Professional Audio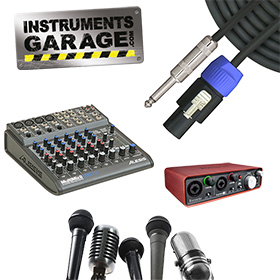 Manufacturer:
Select manufacturer
Results 1 - 15 of 15
Show: Items Per Page
A built-in analog-to-digital converter allows you to use the 16.5' GuitarLink with your favorite guitar (or other instrument using a 1/4" cable).

Alesis delivers pro-grade USB speaker performance to the computer desktop. M1 Active 320 USB speakers enabl

the 16.5' MicLink works with any dynamic microphone and puts audio into your favorite audio program with 16-bit/44.1kHz digital sound quality

PhonoLink makes it easy to direct-connect nearly any turntable, tape deck, mixer, or other stereo, line-level audio source to USB for stereo recording.
Results 1 - 15 of 15
Show: Items Per Page